The Bout of Books read-a-thon is organized by Amanda @ On a Book Bender and Kelly @ Reading the Paranormal. It is a week long read-a-thon that begins 12:01am Monday, August 22nd and runs through Sunday, August 28th in whatever time zone you are in. Bout of Books is low-pressure. There are challenges, giveaways, and a grand prize, but all of these are completely optional.
For all Bout of Books 17 information and updates, be sure to visit the Bout of Books blog.
- From the Bout of Books team
Yep, hot on the heels of the re-readathon, I'm jumping straight into Bout of Books. I'm enjoying just chilling out and
reading
these days. It seems to be just what I need right now. I'm also aware that I'm going back to uni in a few weeks, so it's good practice to get back into reading (I'm a post-grad lit student, and my lecturers regularly assign us 2+ books a week, per
class
.) So, this is not just me finding an excuse to lie about and read and eat sweets. This is me preparing for my
future
.
Um, yeah.
Anyway. I don't have a specific book pile, just the books I'm currently reading and some vague ideas if I finish these.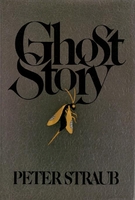 First up, I've got
Ghost Story
by Peter Straub, which Stephen King called one of the finest horror stories of the 20th century. I'm not really sure what to make of it yet. Basically, I read the first 50 pages and then my library e-book expired, and I've only just got it back a month later. Actually, since the re-readathon got in the way I might only have a few days left on my loan... oops. Anyway. We'll see how this goes.
Then there's
Different Seasons
by Stephen King, which is a collection of four novellas, most of which I believe were adapted into movies I have never seen. I'm about halfway through the second novella, "Apt Pupil". Stephen King tends to be a bit hit or miss for me, but I'm enjoying this so far.
I also want to finish
Harry Potter and the Order of the Phoenix
which I started during the re-readathon. What can I say, it's Harry Potter, it's awesome, and I may end up reading the rest of this in one sitting.
After this, I'm thinking of
Shirley
by Charlotte Bronte, and then raiding whatever e-books my library has to offer. We'll see how the week goes :)